In recent years, we've seen splashback trends shift toward more elaborate designs, with quality materials and unique textures.
In this guide, we've shortlisted a notable few of our splashback tiles to inspire you and give you greater confidence in your tile selections. Our hope is to help you find something that will perfectly suit your space, personality and lifestyle.
1. Melange Bianco: Handmade-look ceramic tile
Do you admire the look of our handcrafted Moroccan Zellige tiles but are seeking a more cost-effective option? Look no further than our Melange series. Made in Italy, this handmade-look ceramic tile series is a near replica of the Moroccan Zellige tile, with the same characteristics of its handmade counterpart at a fraction of the cost.
The Melange tile range features a glossy finish and subtle shading variation to achieve the natural and organic appeal that so many have come to love. Available in a generous selection of colours, this tile series can used to elevate any style of kitchen. The most popular colour by far is Melange Bianco, with its subtle warm white hues that suit almost every space!
2. Yohaku: Japanese ceramic square mosaic tile

Another of our favourites is the Yohaku Japanese ceramic mosaic tile, a 68mm square gloss mosaic tile with a speckled glaze.
Ideal for use in a range of interior settings, Yohaku achieves a modern look while also contributing a sense of class through its sleek design. Available in six colours to suit your kitchen design – White, Green, Blue, Metallic, Beige or Grey
3. Spatula: Italian double-fired ceramic tile
We've seen many of our clients fall in love with the warm and natural appeal of our Spatula Italian double-fired ceramic tile. Available in square or brick format, this ceramic tile from Italy (produced at temperatures of more than 1000°C) brings a uniqueness through its discolouration and irregularities achieved through a manual, hand-glazed production process.
4. Zellige: Moroccan handmade tile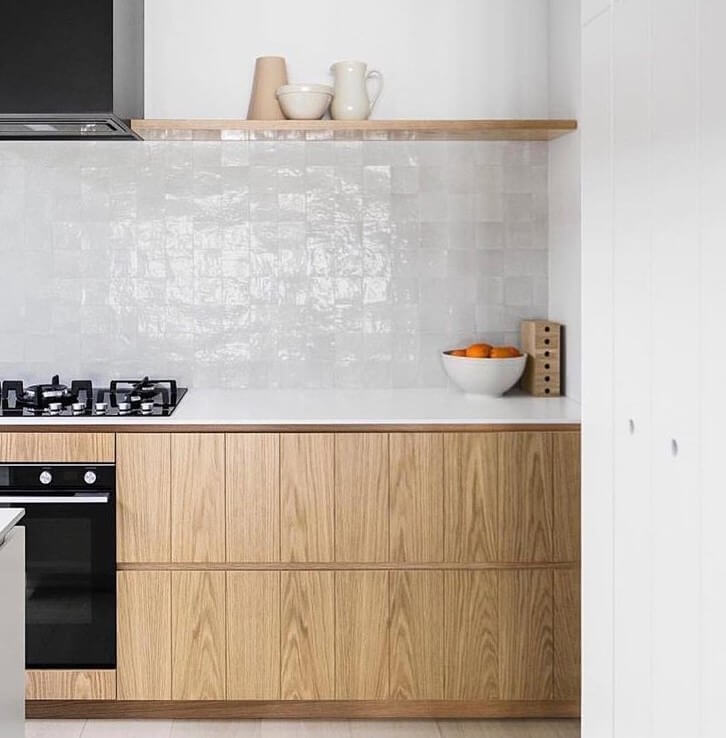 Ranked as one of the top home interior trends, there's no question why our dreamy Zellige Moroccan handmade tile range has made our list.
Suitable for a range of interior settings, each Zellige tile is individually cut and hand-glazed resulting in a beautiful shade variation. The uneven and glossy surface of the tile reflects light and creates a breathtaking earthy appearance and dimension.
5. Safi: Spanish handmade-look mini brick tile
The shade variation and textured surface of our Safi Spanish handmade-look ceramic tile is also a crowd favourite.
This 50x160mm mini brick tile format looks great when laid vertically or horizontally. The subtle shading adds interest to your splashback and is available in 4 gloss colours – White, Nude, Aqua blue or Mint green – as well as Cotton, which is a warm matt White.
6. Portia: Spanish patterned porcelain tile
Perhaps you are braver in your design choices and want to add some pattern to your kitchen splashback?
Our Portia pattern tile series from Spain is a great choice and offers you a unique kitchen splashback option. The unique patterns in the Portia tile range offer a modern interpretation of the decorative styles of the past with taste and refinement. Available in 3 different patterns and 2 colourways, Sand or Pink, the Portia series is a 223x223mm format tile that offers a perfect way to accentuate your space.
7. Sixty: Italian porcelain mini brick tile
Available in a 50x150mm format, the Sixty mini brick series offers a comprehensive range of colours and finishes to add some colour, texture or both, to your kitchen splashback.
This porcelain tile is available in eight colours – Talco, Sabbia, Cenere, Fango, Cielo, Salvia, Antracite and Nero – and all eight colours are available in three finishes – Gloss, Matt or Textured (Timbro).
8. Gesso: Italian double-fired ceramic tile
Our Gesso Italian double-fired ceramic tile range tile provides a warm and urban feel to the home. Available in range of colours, the slightly varied shading replicates that of burnished coloured clays, enhancing that rustic appeal.
No matter which type of kitchen splashback you desire, Tiento is here every step of the way in turning your vision into a reality. Get in touch with our friendly team today via email or phone (03) 9510 5055.
Our showroom is open Monday to Friday between 9am and 5pm with no appointment necessary, or you can contact us to make an after hours appointment for Saturdays or evenings.