In recent years, we've seen splashback trends shift toward more elaborate designs, with quality materials and unique textures favoured over mass produced and short-lived Chinese products.
In this guide, we've shortlisted a notable few of our splashback tiles to inspire you and give you greater confidence in your tile selections. Our hope is to help you find something that will perfectly suit your space, personality and lifestyle.
1. Motto: Japanese ceramic subway tile
Do you love this glossy emerald green tile as much as we do? Our Motto Japanese ceramic subway tile range is becoming an increasingly popular splashback option for those seeking to add a punch of colour and texture to their space.
Motto produces a beautiful effect once laid, and this is thanks to its strong shading variation and movement on the tile's surface. Available in a range of colours, this exquisite tile is an excellent choice for adding that something extra to your kitchen. Consider our White colourway to brighten up spaces with less natural light.
2. Chat: Japanese ceramic mosaic tile
Another of our favourites is the Chat Japanese ceramic mosaic tile, a distinctive elongated hexagon mosaic tile with a glossy finish. Ideal for use in a range of interior settings, Chat achieves a modern look while also contributing a sense of class through its sleek design. Why not combine multiple colours to create your own unique look like this one?
3. Spatula: Italian double-fired ceramic tile
We've seen many of our clients fall in love with the warm and natural appeal of our Spatula Italian double-fired ceramic tile. Available in square or brick format, this ceramic tile from Italy (produced at temperatures of more than 1000°C) brings a uniqueness through its discolouration and irregularities achieved through a manual, hand-glazed production process.
4. Zellige: Moroccan handmade tile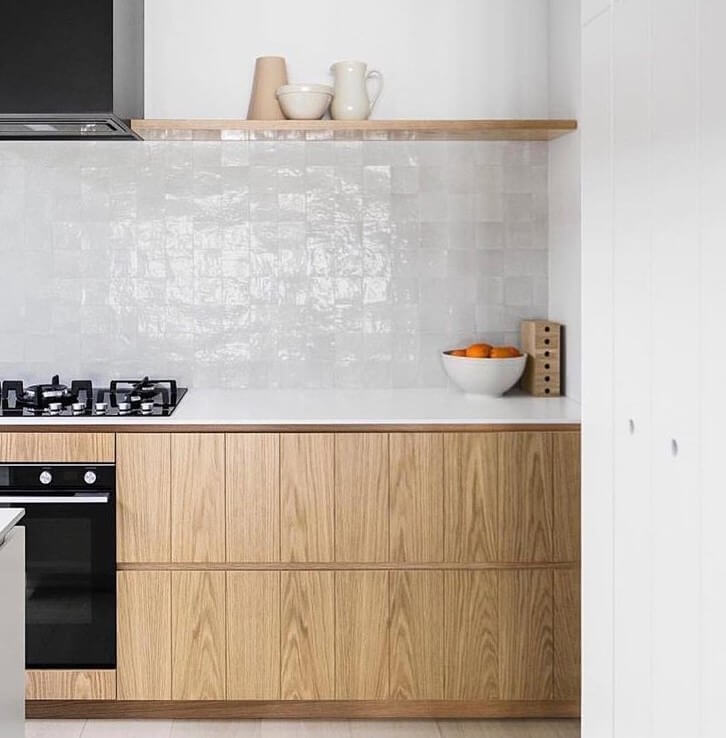 Ranked as one of the top home interior trends to embrace in 2021, there's no question why our dreamy Zellige Moroccan handmade tile range has made our list. Suitable for a range of interior settings, each Zellige tile is individually cut and hand-glazed resulting in a beautiful shade variation. The uneven and glossy surface of the tile reflects light and creates a breathtaking earthy appearance and dimension.
5. Amano: Spanish handmade-look ceramic tile
The uneven edge and textured surface of our Amano Spanish handmade-look ceramic tile is also a crowd favourite. While this ever-popular Spanish tile has appeared in many a kitchen, there are now so many colours, sizes and finishes to choose from which put a fresh spin on the classic shape. Our Amano tile continues to be a timeless subway option that works anywhere and anytime.
6. Abitare: Italian patterned porcelain tile
Perhaps it's a rise of Hamptons design, or simply because people are getting braver with patterns – either way our Abitare Italian patterned porcelain tile range from Italy has become another of our more popular splashback options. The unique floral patterns in the Abitare tile range effectively recover the decorative styles of the past with taste and refinement. A true celebration of beauty and skill, our Abitare tiles offer a perfect way to accentuate and add a classic character to your space.
7. Nature: Spanish glass mosaic tile
Soak yourself in the nautical colours and textures of our Nature Spanish glass mosaic tile range. The waves of blues, greens and greys in the series emit a tranquil vibe – giving your kitchen a fresh, yet trendy look. Manufactured from 99% recycled glass, our Nature mosaic tile is a natural and sustainable product contributing to a lower carbon footprint. If you're seeking a colourful, yet tasteful look with the environment in mind, then our Nature mosaic is the range for you.
8. Melange: Italian handmade-look ceramic tile
So you admire the look of our handcrafted Moroccan Zellige tiles but are seeking a more cost-effective option? Look no further than our Melange Italian handmade-look ceramic tile series. A near replica of the Moroccan Zellige, our Melange porcelain tile reinterprets the same characteristics of its handmade counterpart at a fraction of the cost.
The Melange tile range features a glossy finish and subtle shading variation to achieve the natural and organic appeal that so many have come to love. Available in a generous selection of colours, our Melange tile can used to elevate any style of kitchen.
9. Gesso: Italian double-fired ceramic tile
Our Gesso Italian double-fired ceramic tile range tile provides a warm and urban feel to the home. Available in range of colours, the slightly varied shading replicates that of burnished coloured clays, enhancing that rustic appeal.
No matter which type of kitchen splashback you desire, Tiento is here every step of the way in turning your vision into a reality. Get in touch with our friendly team today via email or phone (03) 9510 5055. Our showroom is open Monday to Friday between 9am and 5pm with no appointment necessary, or you can contact us to make an after hours appointment for Saturdays or evenings.